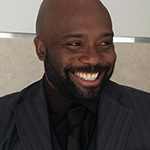 Larry attended T.C. Williams High School in Alexandria and has lived in many areas of Washington, D.C. before going to college at the Virginia Commonwealth University. After graduating from VCU, Larry returned to D.C. and started working with Henninger Media Services, a television production company where he was promoted from office assistant to project manager in a matter of months. Larry left Henninger to explore other television production routes with the likes of ESPN, NBC, National Geographic and the Discovery Channel. As an expert in video production, Larry is very critical about what he presents to the public, especially with real estate, and refines every aspect to ensure the proper visual presentation of a home and how it impacts the marketing of a property in a buyer's mind.

Larry was involved in the production of a spin-off of the home redecorating series, Trading Spaces, in which Larry developed a keen sense of the importance of home design and decor. Larry's production work, not only in Washington, D.C. but also in New York, Los Angeles and internationally, affords him a broad network he leverages for his real estate clients.

Larry's network includes an array of both corporate and individual clients, with years of experience working for political action groups in the D.C. area. Larry started his real estate career with first time home buyers, and since has expanded his business and client reach to investors, developers, and sellers.